This is Pack of Flowing Blood; Blood Pack for short. We don't mess around. You slip up, your dead. We fight, kill, train and battle better, fiercer and harder than any other wolves. Doubting us is a bad idea; fighting us is even worse.
Alpha Male(top)-
Nightmare is Red Fang's and Shade's brother. His eyes are glowing gold yellow,and his fur is unusually bright red with black,and white streaks in it, because he is a maned wolf. He is irritable and hot headed, and will take on any enemy to prove himself.His brothers are Shade and Red Fang. Red Fang is actually his half brother because they share the same dad but two different mothers, and they were born years apart. Nightmare was in love with Hana, an omega, but was forced to move on and become Talutah's mate when he became an Alpha.
Alpha Female(bottom)-
Talutah is a level headed, strong she wolf. She will fight viciously and savagely to keep her position in the pack, and will not let any wolf stand in the way of her dreams. She is red and black, with big, glossy wings. She had issues with her brother, Kiba, because he resents her for always being the 'special' one. She is kind to those she wants to be kind to, but if your on her bad side, you should probably watch your back.
Canaan is a black wolf with one eye as black as night and the other as white as snow. His pelt is jet black on one sie with white paw/tail/right ear tips and the other side is the exact opposite. He has a scar running from his left shoulder to his right hip from getting caught with a blade from a hunter.
A jet black and blood red pelt protects him in the cold. He is fierce and competative. In a battle he will always have the upper hand so stay away.
Can and will put any one person in danger when angry.
Enjoys silence while it lasts. Shade's brothers with Nightmare, and rarely speaks to anyone else. Because the two are only with their inner sanctum, their personalities have grown similar- sarcastic, competitive, short tempered, and arrogant. What Shade may really need is someone who can change him- a friend.
Talutah's brother, he was always jealousee of her and her wings. She was always the favorite... The "special" one while he was the normal brown wolf with nothing to show but a couple of long fangs. He is sweet and humble but his pent up feelings of jealousy towards his sister have made him a whole different wolf entirely.
A beautiful silver she-wolf with brilliant blue eyes. She is very quiet and doesnt talk much. Akala's more of a teenager, and absolutely hates her sister, because she's the youngest of the two and always gets all the attention. Her mother and father never paid attention to her, so she ran off. Like they would notice anyway.Akala keeps to herself and is a vicious killer when she wants to be, though she has a sweet side. She was taken in by Luka who has acted very much like an older brother to her.
A charming and deceptive white male beta with handsome yellow eyes. While he was traveling with his real sister, Karina, they got attacked by a group of wolves. Karina got wounded so badly that she later died. Luka nearly lost his mind after that. The two were extremely close. But then he found Akala, half-dead and on her own, and took her in as his new sister. He still stumbles over her name, he keeps wanting to call her Karina. But now, he hates all other wolves and would protect any wolf he knew well with his life. Especially if it were Akala.
Fang is a first for this pack of wolves. He is differant from them, from his big, rounded ears, right down to the twang in his accent. He is an African Wild Dog, who was smuggled from Africa, but he managed to escape before the smugglers sold him. Now he lives with Bloodpack, hoping for a new life. He misses his old pack, but doesnt let anyone know, because he doesnt want to worry them. His personality is calm and caring, and he alwaystrys to help those around him, because where he was brought up, strenghth wasnt everything.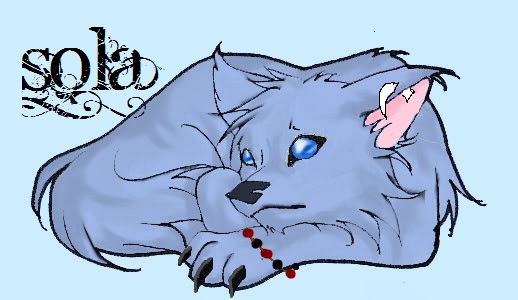 Sola
Pup
Sola is a blueish silver pup with bright blue eyes, and Kiche and Red Fang's son. Like his siblings, he has little interest in being alpha, but knows it's what he must grow up to be for
the sake of his pack, no matter what happens. Kiche wanted to see if he was
worthy and strong enough to be the alpha successor, so she took a falcon's talon and pierced his ear with it. Because he didn't cry she knew he would be successor. He has a black and brown wooden
bead loop on his front paw. Inside he's bitter about the death of his mother, the lack of interest from his dad, and the loneliness in his pack.
Shina
Pup
Shina is one of the daughters of the alpha wolves, Kiche and Red Fang. Most tend to prefer her sisters over Shina because of Shina's deformed paw, but her sisters still hold high expectations for her. She's clever, a quick learner, which can make up for her paw most of the time. Shina is good at hunting in groups, but she isn't a very good fighter or solo hunter. Shina is pretty shy, but gets along well with her sisters.
Kaliska is the Alpha's pup. She has always been expected to grow up strong and determined. But Kaliska is not all that interested in the whole alpha buisness, as she is somewhat dreamy and loves listening to the stories of thier pack.She constantly has her head stuck in the clouds and is think all the time, making her not a likley candidate for alpha. She is a pure blue pup with blue eyes the color of saphire. Her defining markings are, her snow white paw, tail tip, and perfect diamond on her forehead.
An omega . Not pretty or good at fighting, but friendlier than other wolves, which often leads to her getting bullied. The pack leaders tend to push her around a lot, and she's terrified of being exiled for being useless. Secretly, she wishes she could have pups- But she knows they would be killed. If you ask her for medical treatment, she'll try her best.